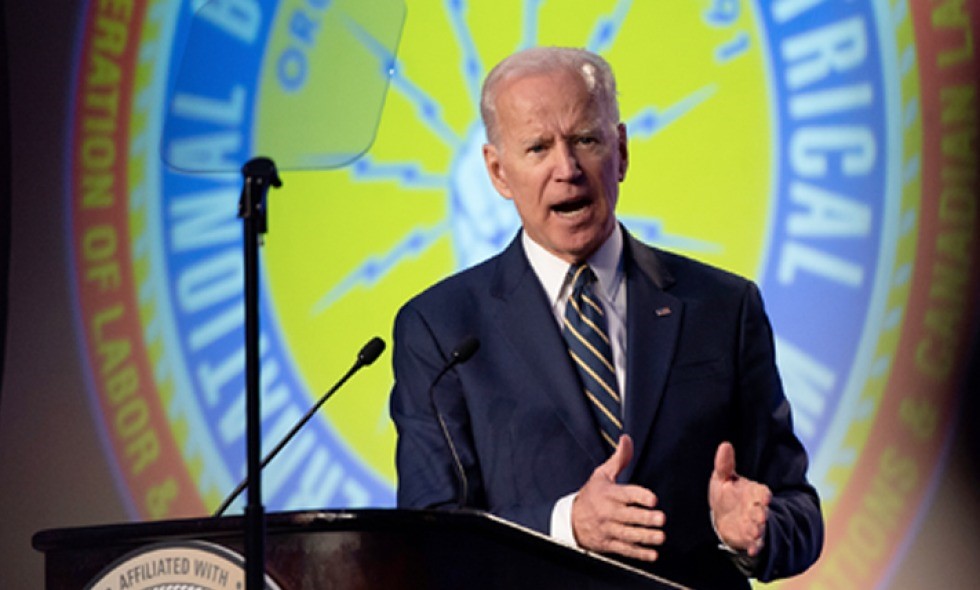 December 9, 2021
From legislation to executive actions and appointments, Biden is getting things done for unions
A little over a year ago, President Joe Biden won a stunning election victory, upsetting Trump and making him the first President to lose reelection in 28 years. At the time, President Biden said that he would be the most pro-union President in the history of the country.
With the end of the year fast approaching, UCOMM has decided to take a look at whether President Biden has been able to deliver on that promise. Some of these were included in UCOMM's previous piece on what was accomplished after 100 Days, but thankfully since then, many things have changed.
Hiring's and Firing's
Most of these were pretty easy low hanging fruit for Biden since he controls who he can appoint and fire. In fact, some, like the firing of Peter Robb, took place only hours after he took office.
Fired Peter Robb– Robb was the anti-union general counsel that Trump appointed to lead the National Labor Relations Board (NLRB). Traditionally the general counsel is tasked with prosecuting cases against bad employers, but Robb used the position to go after unions and union-friendly rules. Robb was fired within hours of Biden taking office.
Appointed Peter Ohr Acting NLRB General Counsel and Jennifer Abruzzo to be the permanent General Counsel– After firing Robb, Biden made Ohr, a longtime regional director, the acting NLRB General Counsel. Ohr has since begun to undo many of the Trump-era regulations that the union-busters Trump appointed to put in. Biden has since nominated Jennifer Abruzzo, the Special Counsel for Strategic Initiatives for the Communications Workers of America, to become the permanent replacement. Abruzzo will have a hearing before the Senate during the first week in May.
Appointed Marty Walsh Labor Secretary and Julie Su to be his Deputy– Walsh, the former Mayor of Boston, was previously a union leader with Laborers Local 223 and the head of the Metropolitan Building Trades. Walsh is the first union leader to lead the department in more than half a century. Walsh has hit the ground running, doing interviews across the country to sell Biden's huge infrastructure plan. Biden also selected Julie Su as the Deputy Labor Secretary. Su ran the California version of the Department of Labor and has a long history of advocating for workers' rights, especially immigrant and trafficked workers.
Biden Fires More Trumpers in US DOL– Early in his first weeks in office, Biden issued an ultimatum to the 10 anti-union members of the Federal Service Impasses Panel (FSIP), resign, or be fired. Within hours, eight had resigned and the final two were removed from office. With these members removed federal unions were once again able to get a fair shake in front of the FSIP, after four years where the government won 90% of the cases that came before the panel.
Biden Picks an IBEW Leader for the TVA Board– Robert "Bobby" Klein the retired 10th District International Vice President of the IBEW was selected to serve a five-year term as a member of the Board of Directors for the Tennessee Valley Authority, a government-owned utility that provides electricity to nearly 10 million Americans in Tennessee, Alabama, Georgia, Kentucky, Mississippi, North Carolina, and Virginia. The TVA employs more than 2,500 IBEW members.
New Appointments to the Equal Employment Opportunity Commission (EEOC)- The commission, which is tasked with ensuring that all workers get a fair shake regardless of race, gender, religion, etc., got two new appointments in Charlotte Burrows, a longtime civil right and immigrant activists, and Jocelyn Samuels, who has worked for years on policies to attain equality for sexual and gender minorities.
Made a union attorney Chairman of the Federal Labor Relations Authority– Ernest Dubster, a union attorney, the former legislative counsel for the AFL-CIO, and a law professor who teaches collective bargaining and arbitration was appointed Chairman of the Federal Labor Relation Authority (FLRA) which deals with disputes between government unions and agencies.
Selected a Steelworker to Lead OSHA– After four years of whittling away OSHA, Biden appointed James Fredrick to lead the agency. Fredrick worked for 25 years for the United Steelworkers health, safety, and environment department before leaving in 2019 to become a safety consultant.
Picked Jessica Looman to Lead the Wage and Hour Division– Looman, who was the Executive Director of the Minnesota Building and Construction Trades Council and the general counsel to the Laborers District Council in Minnesota and North Dakota, was selected to lead the division that ensures employers are paying their workers the proper wages, including meeting minimum wage and overtime requirements.
Picked a Teacher to Run the Education Department– During the campaign, Biden promised to put a teacher in to lead the Education Department after Betsy DeVos. He did this when he appointed Miguel Cardona to lead the department. Cardona was the former education commissioner in Connecticut and had worked as an elementary school teacher, principal, district administrator, and deputy superintendent.
Took Back Control of the NLRB– With two positions on the National Labor Relations Board opening up over the summer, Biden selected David Prouty, the former counsel for SEIU 32 BJ, and Gwynne Wilcox, former counsel for SEIU 1199 for the board. This gives Democrats control of the important board that determines cases like whether an employer busted a union. A Democrat-controlled NLRB will play a vital role as numerous high-profile organizing campaigns at companies like Starbucks and Amazon are ongoing. NLRB General Counsel Abruzzo has indicated that with the new Democratic majority, she will look to reinstitute the Joy Silk Mills doctrine which would allow more organizing elections to be decided by card-check instead of needing to go to a full vote.
Executive Orders
Another easy one for President Biden as many of these issues were either meant to overturn Trump era orders or were holdover needs from the Obama administration.
Executive Order to Create a $15 Minimum Wage for Federal Contractors– Biden has issued an order for all federal contractors to be paid at least $15 an hour by March of 2022, meaning that hundreds of thousands of workers will get raises in the next year. Biden's order also eliminates the tipped minimum wage and the disability minimum wage for federal contractors.
Creates a Task Force to Promote Organizing– Biden signed an executive order to create the Task Force on Worker Organizing and Empowerment. This group will have 180 days to come up with recommendations on what he can do to use federal policies and programs, and what changes need to be made, to promote organizing and collective bargaining. The group will be led by Vice President Kamala Harris.
Allows Unions at the Department of Defense– In January of 2020, Trump signed an Executive Order allowing the Defense Secretary the power to take away union rights for anyone working at the Department of Defense (DoD). While not used during Trump's time in office, Biden signed an Executive Order repealing that power and ensuring that civilian staff's bargaining rights are not infringed on by the DoD.
Ordered OSHA to Create a COVID Safety Standard– After ten months of pushing Trump to create a safety standard, on Biden's first day in office he directed OSHA to create the standard to keep workers safe on the job.
Strengthen Buy American– Biden issued an order to direct the federal government to strengthen their Buy American rules by requiring more of the product be made in the US, cutting red tape for buying these items, and making it easier for small and mid-sized American companies to win bids. The 20% change could result in about $120 billion in federal spending staying in the United States.
Biden Orders Federal Government to Buy more American Products– In a separate order, Biden made a massive change to the formula that a product uses to be considered "Made in America" to meet federal Buy American rules. Under Biden's new rule, at least 60% of the product must be made in the United States (up from 55%), and within the next decade that threshold will increase to 75%. This is the biggest change to the Buy American rules in 70 years and will help strengthen American businesses and manufacturers.
Allow Federal Unions to Bargain Again– Biden ordered agencies to begin bargaining over permissible, non-mandatory subjects of bargaining and ordered agencies to remove immediately anti-union provisions that Trump forced them to put into contracts, including one that kicked unions out of offices that were on federal property.
Issued Executive Orders to Promote Federal Unions– Under the new executive order, federal agencies will be required to educate new hires about their right to join a federal union and the union will be allowed to participate in new hire training sessions so that they can interact with the new employees right away instead of trying to track them down once they have joined the federal workforce. For current employees, the Executive Order would require agencies to communicate more clearly throughout the year about their collective bargaining rights and how to contact their unions.
Bills Passed or Proposed
Over just 11 months in office, President Biden has passed some massive bills. These include investing in working people to help them through the pandemic and investing in our country while creating good union jobs. Over the next few weeks and months, the President still has work to do to get his Build Back Better Bill and the PRO Act passed.
American Rescue Plan– Also known as the stimulus, this $1.9 trillion bill included money for protecting public health, like funding testing, contact tracing, and PPE, including increasing domestic production of PPE. It gave $200 million to the Labor Department to allow OSHA to enforce safety rules in high-risk jobs like meatpacking plants. It also provided billions in money for state and local governments to avoid layoffs and for schools to put in safety procedures so that they can safely reopen. The bill also extends unemployment, gave Americans $1,400 checks, and increased the tax credits for parents with children under the age of 18. Perhaps the most important thing that the bill did for workers were shoring up multi-employer pensions, something that many unions have been fighting to get done for years. This money will ensure that retirees continue to get their full benefits from their pensions. Status: Passed and signed into law.
Biden Creates Offshore Wind Zone– Biden and the Interior Department approved a plan to create an offshore wind zone between the New Jersey and Long Island coast. "The men and women of the International Brotherhood of Electrical Workers are ready to get to work building America and its economy back better, expanding carbon-pollution free power through carbon capture, renewables, storage, and transmission; leveraging existing resources like nuclear; and electrifying other sectors like transportation," IBEW International President Lonnie R. Stephenson said following Biden's announcement last week of a bold set of actions on climate change and creating new unionized jobs in the renewable energy industry. In addition to the American Jobs Plan, this part of his infrastructure proposal calls for the domestic manufacturing and installation of 30 gigawatts (GW) of offshore wind capacity by 2030, enough to power 10 million homes, which would create 44,000 jobs in development and construction and 33,000 more jobs in supporting sectors within the next 10 years. Status: In Progress
American Infrastructure and Jobs Plan- This bill became known as the Bipartisan Infrastructure Bill and it invested $1 trillion into infrastructure ranging from upgrading the nation's electric grid, building out a national car charging network, to expanding affordable high-speed broadband to every American and repaving roads and fixing bridges. The bill passed in early November and is expected to create tens, if not hundreds, of thousands of union jobs over the next decade. Status: Passed and signed into law.
Build Back Better Bill– also known as the budget reconciliation bill, this massive bill has passed the House and is waiting for a vote in the Senate. The bill, which is a sort of wish list of priorities, includes funding for health care and childcare infrastructure to help working families take care of their loved ones. It also includes funding to help fight climate change that will create good, clean energy union jobs. The bill also creates real financial penalties for employers who violate labor law. "For the first time, employers will be hit with real financial penalties for union-busting, making this the most significant advancement for the right to organize since the passage of the National Labor Relations Act in 1935," said AFL-CIO President Liz Schuler. Status: Passed House, Awaiting Senate Vote
PRO Act: While this bill seems unlikely to pass through the Senate, Biden has supported the bill. The PRO Act would be a massive overhaul of federal labor law that would even the playing field between what an employer can do during a union election and what a union can do. The bill would protect workers' right to organize and would overturn right to work laws. Status: Passed House, awaiting a vote in Senate.
Statements and Actions Supporting Unions:
In addition to passing bills, it is also important for the President to use his pulpit to encourage unions and discourage union-busting. Here are just a few examples of his public statements and actions.
Supporting the Amazon Workers Organizing Campaign– For the first time since President Harry Truman, a sitting President issued a statement in support of workers who were organizing. The video was directed at both the workers and Amazon, who he pushed to stop their intimidation tactics. "It's not up to me to decide whether anyone should join a union. But let me be even more clear: it's not up to an employer to decide that either. The choice to join a union is up to the workers – full stop." Biden went on to say "there should be no intimidation, no coercion, no threats, no anti-union propaganda. No supervisor should confront employees about their union preferences."
Using the USMCA to Enforce Labor Law– In a big win for the Biden Administration, the United States was able to successfully enforce a provision to the Mexican subsidiary of General Motors to allow a free and fair union election at their plant in Sialo Mexico. The Biden administration used a "rapid response" clause in the United States-Mexico-Canada Agreement (USMCA) to enforce the provision and protect not only workers in Mexico but American GM workers as well since many of their jobs have been sent to the Sialo plant. The workers at the plant had voted on a collective bargaining agreement in April, but the vote was rife with problems leading Biden to step in.
Including Unions in Public Statements- In his first address to a joint session of Congress, President Joe Biden outlined his major plans for recovery and moving America forward: American Jobs Plan, American Families Plan, and of course the American Rescue Plan, which he signed in March. One word he kept repeating: jobs. In a moment that was reportedly unscripted, the 46th President name-dropped the largest energy industry union in the world, I.B.E.W., representing about 775,000 electrical workers in the United States and Canada. "Electrical workers, IBEW members, installing 500,000 charging stations along our highways so we can own the electric car market." It seems like, under President Biden, unions are getting talked about significantly more than by any President in recent memory. Also more than just talking about unions in a general sense, Biden makes a point to drop union names and acronyms when he speaks about them.
Honoring AFL-CIO President Richard Trumka– When the AFL-CIO President unexpectedly passed away in August, Biden said, while holding back tears, "He wasn't just a great labor leader, he was a friend. He was someone I could confide in. You knew whatever he said he'd do, he would do."
Promoting Union Made, American Electric Vehicles– Biden took some heat in August when he held a meeting of the largest automakers in the United States to discuss an Executive Order setting a goal of having 50% of new cars sold in the United States be electric by 2030. At the meeting, Biden only met with the UAW's big three automakers, causing complaints from the largest electric car maker in the United States, Tesla which has rebuffed efforts from the UAW to organize. When asked by the media if Biden excluded Tesla due to their labor record, White House Press Secretary Jen Psaki said "Well, these are the three largest employers of the United Auto Workers, so I'll let you draw your own conclusions." Biden also headed to Detroit to test drive Ford's new electric F-150 truck which will be made by union workers in Michigan.
Promoting Unions–Under President Biden's leadership, numerous top-level officials including Vice President Kamala Harris, Labor Secretary Marty Walsh, and Energy Secretary Jennifer Granholm have been deployed to local union halls to not only meet with elected union officials but to also promote the work that the local unions are doing. ­­­President Biden has even deployed some of his cabinet officials to picket lines to show their support for strikes at John Deere and Kellogg's.
https://theconstructionbroadsheet.com/report-union-construction-jobsites-significantly-safer-than-nonunion-site-p546-174.htm