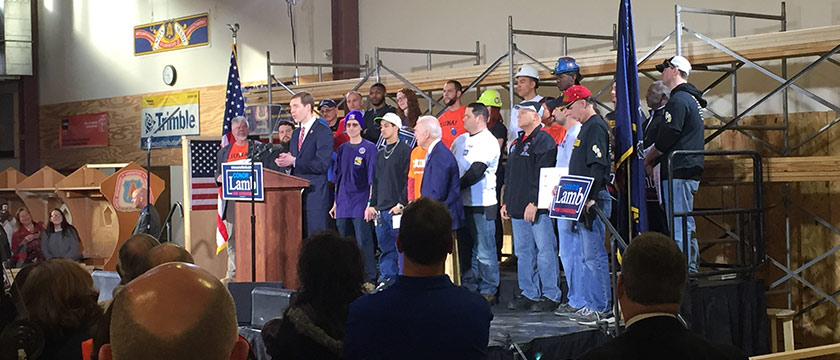 October 13, 2020
We have heard it a million times, "This is the most important election of our lives." This 2020 election is truly just that. Attacks on labor and carpenter values are taking place every day, and it is our values that are on the ballot this November. With so much going on this year it's hard to break through the noise, but that just makes the stakes of this election that much higher.
Things have changed drastically in the past 7 months, but one thing stays consistent, when Union Carpenters show up to the polls, politicians listen. The most important thing that we can do right now is vote. When we vote we are not voting for candidates, we are voting for our jobs, our healthcare, our pensions, and our livelihood. Whether you are a Republican, Democrat, Independent, etc., we can agree that we must elect candidates who support Carpenter issues.
On September 30th, the United Brotherhood of Carpenters announced the endorsement of Vice President Joe Biden for President.
"When it comes to Carpenter issues like strong protections for the safety and wages of hard-working people, supporting union apprenticeship programs, and creating good-paying jobs by investing in our nation's infrastructure — there is no better choice than Joe Biden for President and Kamala Harris for Vice President."

Eastern Atlantic States Executive Secretary-Treasurer William C. Sproule
You can read more about that endorsement here: https://eascarpenters.org/ubc-endorses-biden/
When our union makes an endorsement that means that candidate stands with us on prevailing wage and Davis Bacon, tax fraud and misclassification enforcement, the importance of our apprenticeships and more. Every candidate endorsed has toured one of our Training Centers and has committed to protecting our Union and working families, whether they represent us in Harrisburg, Washington D.C., or your local County Council.
This year EAS has all of the endorsed candidates on the website. We are using a new program called LiveBallot. Follow this link: https://eascarpenters.org/go-out-vote/ and you can type your address in the search bar to see exactly who we've endorsed in your area from President down to State House.
To sign up to volunteer to help us get out the vote — email me at eshriver@eascarpenters.org